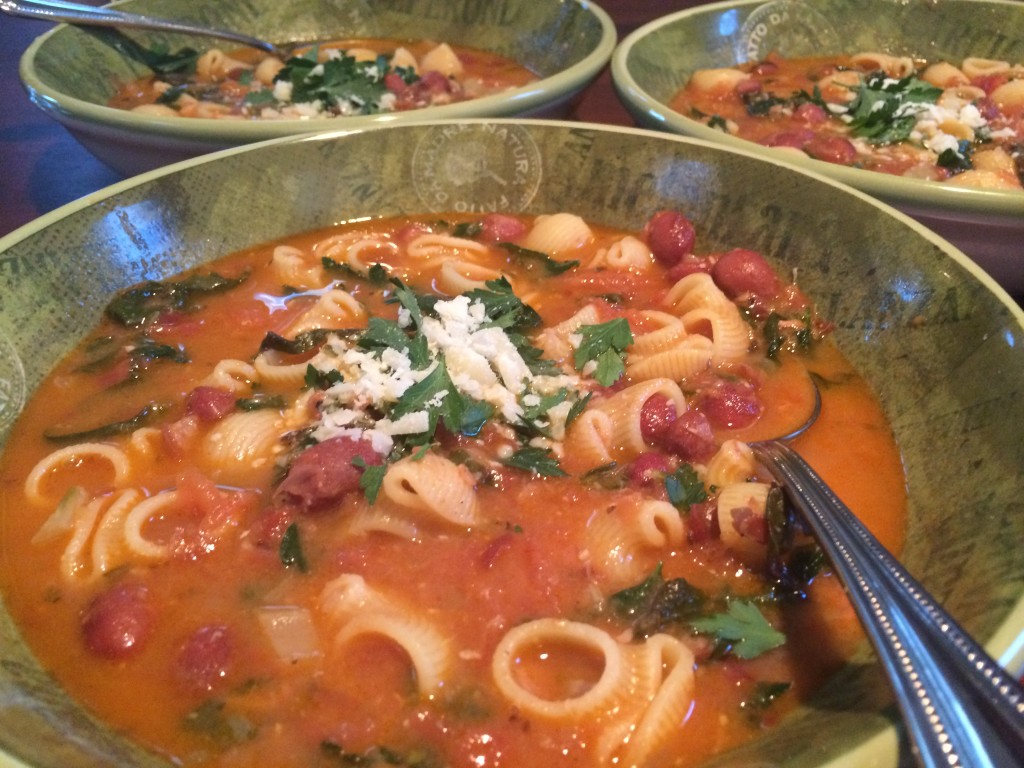 Pasta e Fagoli Using Cranberry Beans:
It's definitely summer in San Francisco and this means that soup is on the menu on those days that the weather decides to get cloudy. By now you are probably aware of my love for heirloom beans and that I've recently joined a CSA that gives us incredible varieties of them and has been encouraging me to cook more often.
When dry, Cranberry beans are a gorgeous shade of red and the shape is quite round. When you soak cranberry beans they double in size and I've found it difficult to find a use for them in recipes, because unlike my white beans that are super tasty to eat on their own, the cranberry bean is quite starchy and prone to falling apart.
However, I was determined to do this bean justice and this Pasta e Fagoli recipe was brilliant! It's hard to describe the emotional satisfaction of finding the perfect place for this beautiful bean to shine. But, I am sure you can imagine it. One of my housemates commented that he would pay $10 for a cup of this soup, that's how much he liked it.
Italian soups are one of my favorite things to cook. Why? Because the ingredients are simple, yet there are always subtle understandings of the ingredients and the way they play together that get incorporated into the process. For this soup the two lovely secrets are the parmesan rind and the play between the pasta and the beans. The simple addition of a Parmesan rind while the soup is boiling creates a creamy and flavorful broth. What gives the soup it's signature consistency is in the title. The ajou of the beans and the starchiness of the pasta work together to create a silky broth that takes this soup with simple ingredients to a whole new level.
The other thing I love about this recipe is the parsley. This leaf is so subtle in taste that it's easy to dismiss, however I am coming to appreciate Parsley it for it's fresh, verdant ability to brighten such a hearty soup for the summer months.
Let me know if you have a chance to make this soup! If you ever purchase cranberry beans then I believe you have to.
You can find the recipe I used, here: Cranberry Bean Pasta e Fagoli
Green Tea Chia Pudding
Chia seeds are funny. Everyone knows them from their heyday as part of everyone's favorite "chia pet." I also now know what it was the Mexican restaurants were adding to their agua frescas. What really turned me on to eating chia seeds was the book "Born to Run" – which highlighted them as a "superfood".
What helps in my love for the Chia seed is that I enjoy a "smooshy" consistency. Not everyone resides in this camp, but if you do love these types of food you may also enjoy mochi, gummy candies and chocolate pudding.
I have a pack of Chia seeds in my cupboard – a last-minute impulse buy from Trader Joe's and I was delighted when I cam across this recipe from green beauty enthusiast, Sophie Uliano for Green Tea Chia Pudding.
What encouraged me to make this breakfast dish was that I had all of the ingredients: Matcha powder, Chia Seeds yogurt and Agave Syrup. It's really simple and the caffeine  from Matcha powder is quite delightful and does not create a crash for me.
All you do is soak two tablespoons of chia seeds in water for an hour. Dissolve a teaspoon of matcha powder into the mixture, add a few tablespoons of yoghurt and a dash of agave syrup and wala!
I have to admit, it's odd to feel full off of chia seeds. But I love this green pudding and feel great having it for breakfast. It's light, yet filling.
More specific details on this recipe can be found, here: Green Tea Chia Pudding 
What are your favorite recipes this week?