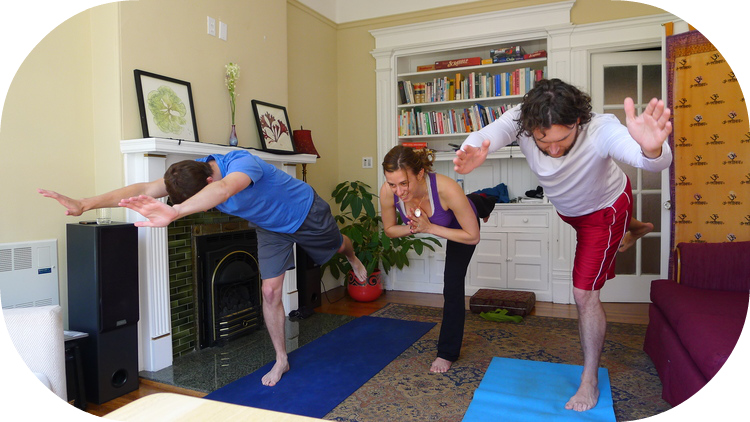 Practice yoga with Sari in and around the Bay Area. Sari's  background as a massage therapist and athlete led her to yoga for its ability to support a strong, well-balanced body and clarity of mind. Sari has been practicing yoga since 2001 and has explored a wide range of styles during that time. Her continued practice led her to study Tantric Vinyasa yoga with Brenna Geehan and Jean Mazzei. She is also a certified yoga for youth instructor. Her mission is to create space for people of all ages and abilities to receive the benefits of this ancient practice and as a result live their most vibrant life. Learn more at www.sarigelzer.com
If you have questions about working with Sari, email her!
Practice With Sari:
Studio + Community
Practice with Sari at the Stonestown YMCA, Moksha SF or International Orange.
Yoga for Youth
Youth need yoga too! Sari teaches at High Schools across the Bay Area as part of the nonprofit RISE Yoga for Youth. She also teaches a wider age range at summer camps.
Inquire about bringing yoga to your school!
Yoga in the Workplace
Whether you have a dedicated fitness room or would rather transform a conference room into a yoga studio, Sari offers yoga at the workplace and has experience working in a variety of corporate settings around the Bay Area.
For more information on how to bring yoga into your workplace, contact Sari.
Private Specialty Yoga Sessions
Personal Practice
Private sessions offer newbies and veterans alike the chance to deepen their practice with one-on-one instruction.
Group-Building Experiences

A yoga group-building experience incorporates partner and group poses for a session that fosters connection and fun. Sari leads one-time group experiences or workshops based on the needs and levels of the group.
Couple's Yoga
Partner poses are a beautiful way to deepen your practice while connecting with your partner. Connecting through breath and supporting one another in yoga poses fosters connection in addition to the many benefits of a yoga practice.
Family Yoga
Blending partner poses and youth yoga techniques, a family yoga session is a great way to have fun connecting as a family.
---
About Sari
Sari is a certified yoga teacher who creates yoga experiences that tap into the physical and energetic bodies. She combines breathwork (pranayama), meditation and movement (asana) to assist students in being their most vibrant self. She teaches group and private sessions in studios, community centers, schools and in the workplace.