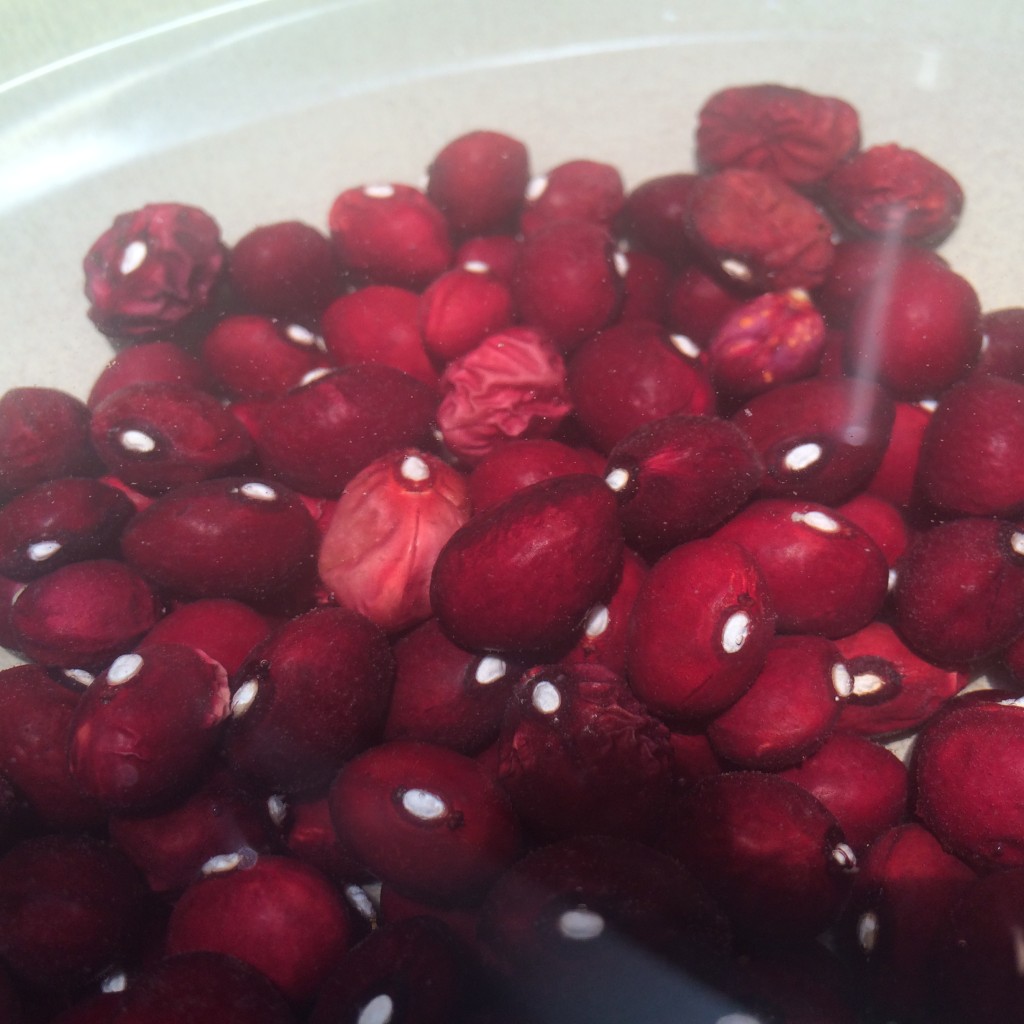 Heirloom beans, heirloom tomatoes. What does it mean when my food is an "heirloom"?
A few years ago I had established a routine for myself: shopping weekly at the farmer's market and tending daily to my garden. I learned so much about food during this time and the term "heirloom" was one of my many lessons.
An heirloom is a treasure that is passed down through the ages and in this case the treasures are seeds. These heirloom seeds are the original seeds of different vegetables and bean varietals before the introduction of hybrid-breeding and Genetically Modified Organamism's (GMO's). They are also seeds that have been around for over 50 years that have a long history, often focused in certain regions and sometimes connected to different cultures.
In modern farming, seeds have been modified in order to yield larger and heartier crops. As awareness spread about the importance of preserving "heirloom" beans and vegetables, the public has been more supportive of farmers producing these unique treasures. Farmers, from home gardeners to local producers, have also taken it upon themselves to do the work of preserving these heirloom varieties by growing them. Such a tasty museum! The Ark of Taste is a project that travels the world collecting seeds and stories and encouraging their reproduction.
My Radical Anarchist Bean
Heirloom beans found their way into my life at the inner sunset farmer's market in San Francisco when Fifth Crow Farms sold me brown paper bags filled with bright cranberry beans and names that captured the imagination – "Old Indian Woman Beans." They also sold amazing sweet peas, which is how I was first lured in and how it became my favorite farm to purvey.
Once I became aware of them, I understood why I was paying a bit more for my tomatoes or beans. I started to notice them more often. In a fun romp through Golden Gate Park I saw that there was a free Anarchists fare being held. A group of farmers were there selling heirloom seeds. They had my favorite – "the hutterite" bean – and so I purchased my magic seeds and planted them. As a gardener who loved visiting her plants everyday I considered those beans radical like the anarchists I bought them from. That little bean tried to grow in what was the foggier side of San Francisco and it never made it beyond an inch and it only delivered one bean. But you bet I honored that bean by boiling it up and eating it. However, I have never tried to grow them again. Now that I'm in warmer climates, perhaps I should!
Learning to Cook Heirloom Beans and Wishing I Knew the Secret
I have to admit my first time cooking beans was not ideal. The biggest challenge was knowing when they were done. I overcooked them into a mushy mess.
The directions to cook beans are really simple, but when recipes are simple there are usually secrets that lie between the lines. Secrets that are best passed down orally, because it's a more intuitive direction than a scientific one. And that's why "heirloom" beans have also found a special place in my kitchen. Not only are they gorgeous and unique (and delicious!), I feel more connected to their history and to the ethos behind them that is promoted through what is known as the "Slow Food Movement". It is the connection we have with our food that supports a healthy environment, sustainable farming practices and in turn a more enjoyable and healthy meal.
The Slow Food Movement is aptly named, especially when it comes to enjoying heirloom beans. Armed with my "How to Cook Everything" book by Mark Bittman I was on a mission to learn to cook and have fun doing it. There is no way I could have ever learned without doing. Through trial and error, I ultimately learned to slow down.
My Secret to Cooking Beans
My secret to cooking beans is patience. I have cooked beans many times in my life, but whenever I am asked how long they will take, I never know whether to answer 1 or 3 hours. That's how present I become when cooking beans. They are done when they are done. And they require attention to ensure that they are salted at the appropriate time and removed from the stove at the right time so they can finish their last bit of cooking and be the perfect consistency. I take a lot of pride in my beans and love the process as much as the end result. Yum!
My Recipe for Cooking Beans (With a Few Intuitive Tricks): 
1. Soak beans (I like to cook one cup of dried beans at a time) in a bowl of water, cover with a plate for at least eight hours and up to overnight. Be sure to switch out the water in the morning. What you are looking for is the skin to wrinkle and the bean to rehydrate and eventually fill the expanded skin so that no wrinkles remain.
2. Rinse the beans. (Many say that this soaking process removes chemicals that lead to flatulence.)
3. Saute onions, celery and carrots in a pot (if you only have onions that's fine). Once onions are translucent, place beans in the pot and fill the pot with water up to your knuckle.
4. Add bay leaf and a few cloves of garlic (which turn into soft, golden heavenly surprises when the beans are done) and bring to a boil.
5.  Once it reaches a boil, bring down to a simmer.
6. Cover the pot halfway and be watchful. This is the secret part. You can't get distracted during this 1-2 hr period. You must relax and keep an eye on the beans. If they need more water, heat up water in a kettle and add until it reaches 1/4 inch above the beans. Over time, you will also find the perfect amount of cooking liquid for the process so that you can finish with a nice bean ajou at the bottom of your pot which is flavorful and keeps the beans moist.
7. When beans are getting close to done – add generous pinches of salt proportionate to beans.
8. When beans are getting really, really close to done – cover and take them off the heat and let them continue cooking in the pot with the lid on. This is another key moment in bean making to ensure that you don't overcook your beans, resulting in their inability to stand on their own without falling apart.
Serving Suggestions: 
     * Add a little bit of butter or ghee to your beans to coat them when they are hot.
     * Saute veggies and top the beans with them.
     * Create a simple pesto and swirl it into your bowl of beans.
     * Serve an egg on it for breakfast.